Parts for vintage and competition cars thanks to a network of serious preparers and suppliers.
Parts for vintage and competition cars.
I provide to the amateurs and professionals of old cars of competition, collection or sports, the parts which they have difficulty in finding to devote themselves to their passion. Engine, suspension, gearbox, bodywork…etc. Whether they take part in rallies, circuit events or simply drive for pleasure on public roads.
Finding what will meet your expectations can be very time consuming, and Time is Money.
When faced with two similar parts of different origins, which one is the right one?  The supplier and his experience make the difference. This is how Racing-Bull's reputation was built. By looking for parts for old racing cars and classic cars.  My principle is to look for tested and validated parts by relying on a network of renowned and experienced manufacturers, craftsmen, engine manufacturers and preparation workshops. I also cross-reference the information gathered throughout my experience and that of my partners.
Do not hesitate to ask me about a part that is not in my shop. I have listed almost 250 suppliers all over the world. Indeed, my core business is to search for what seems to be unobtainable.
N'hésitez-pas à me questionner au sujet d'une pièce qui ne se trouve pas dans ma boutique. J'ai répertorié quasiment 250 fournisseurs un peu partout dans le monde. Effectivement, mon cœur de métier est bien de chercher ce qui semble introuvable.
I have also sometimes traced the history of vehicles or models. To go and see them to give my opinion, to find technical information on them. To organize club outings, company events based on the theme of classic cars.
It is the sharing of a common passion that makes our classic cars run!
C'est le partage d'une passion commune qui fait rouler nos voitures anciennes !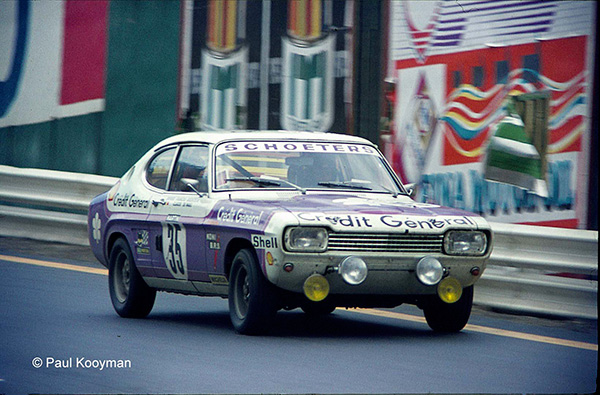 The Ford pictured here is a Capri 3.0 GT, group 1, entered on 21 July 1973 at the 24 H of Spa Francorchamps. It was driven by François Goldstein (B), at that time one of the best kart drivers in the world, and Claude de Wael (B). She was running in division 2. 32nd on the starting grid, she was 8th at the finish, showing a great regularity.  I am publishing it simply because it is a teenage memory: this car took part in this event thanks to my dear father, director at that time of the Crédit Général, sponsor of this car.
Driving course in Liège, Belgium
CONTROL OF THE STEERING WHEEL.
Les cours de pilotage sur piste de glisse, chaque mois, à Liège en Belgique.
YOUR CAR, YOUR CUSTOMER'S CAR: RENAULT 5 TURBO, PEUGEOT 504 COUPE, OPEL KADETT GTE, ASCONA A, ASCONA B, MANTA B, PORSCHE 911, TRIUMPH TR7, TRIUMPH TR8, ETC., CAR BOOKS.